Cinnamon Sugar - Devil's Dozen Look, the amazing-ness of quality that these folks are churning out at Devil's Dozen can not be overstated. They are simple incredible. But for me, this doesn't need to get complicated or fancy, their Cinnamon Sugar donut is the GOAT. It is not a debate. Maple Bacon - The Great Maple
The Great Maple is a San Diego staple and so are their fresh, out-of-the-oven maple bacon donuts. I tear up just thinking about how good these are.
Bavarian Cream - Donut Bar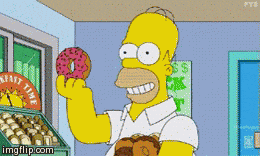 When it is in the shop (usually weekends) this thing is money. I know not everyone loves Bavarian cream, but for me, this one is pure joy.